Alberta Solar Municipal Showcase
Did You Know?

Every hour, enough light energy from the sun reaches the earth to meet the world's energy demands for a whole year!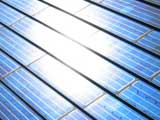 The ALBERTA SOLAR Municipal Showcase is an exciting renewable energy demonstration project involving 20 municipal organizations across the province. Project participants will showcase grid-connected photovoltaic - often called PV or solar electric - systems on highly-visible public buildings.
The project will explore the ways that participants use their showcase to educate and inform residents, building operators, inspectors, trades people and students about this technology and help to support the long-term viability of renewable energy in Alberta.
C3, supported by the City of Medicine Hat, is leading the Showcase. All participating municipal organizations are contributing equal amounts of funding for the project. The Federation of Canadian Municipalities (FCM) is matching the municipal contributions through its Green Municipal Fund.